Lesson One
How AI Can Save You Time, Improve Marketing Results & Give You Confidence
Lesson 1.1: Leveraging AI in your Christian-owned business
(4:33 min) In this video, you'll learn how to align your values with your business practices and overcome doubts. We'll explore the power of AI in marketing and data-driven insights while staying true to your Christian principles. Join us on this transformative journey!
Download your Masterclass Action Guide here to be sure you don't miss anything! Fill it in for all 3 lessons and email us a photo at team@theflamingoadvantage.com for Katie's complete AI prompt booklet including prompts for a 5-day sales email sequence.
Lesson 1.2: By Humans, for Humans – For the Glory of God
(5:22 min) Watch this lesson to explore how to align Christian values with AI technology ethically and profitably. We'll delve into Biblical principles as anchor points and address concerns about competition, ethics, and time management. Join us on a journey to blend faith with business success.
Lesson 1.3: From $5 and a Laptop to Business Success – The Secret Sauce
(3:28 min) In this video, we meet Katie Hornor, a seasoned entrepreneur with a strong commitment to blending faith and business. Discover how Katie built a profitable business without compromising her Christian values and why you can trust her guidance. Katie's journey, from missionary work to successful entrepreneurship, sets her apart. She shares her invaluable insights on integrating AI into your business while upholding your faith.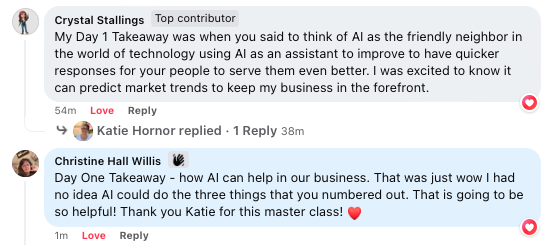 Lesson 1.4: AI Made Easy: Your Simple Guide to Faster and Easier
(5:53 min) In this video, we demystify AI and how it can empower your faith-driven business. Discover how AI tools can be your friendly neighbor in the world of technology. Learn the simple AI uses to help you make informed decisions, streamline operations, and predict market trends—all while upholding your Christian values. Join us on this journey to unleash the power of AI without the complexity.

Lesson 1.5: From Worried to Confident – Real Stories of AI Helping Real Businesses (+ a kid's take)
(3:02 min) In this video, we address the common worry that AI is complicated and demonstrate how it is simple and how it simplifies and enhances your business journey. We'll share real-life clips of Christian entrepreneurs talking about AI's versatility, from creating captivating content to scaling their businesses efficiently.
Lesson 1.6: For Engagement and Efficiency – AI's Impact on Your Business
(5:08 min) To experience the transformative power of AI, the final video in the lesson gives you a practical activity to help you quickly create 30 high-engagement social media posts. This activity showcases how AI can save you time and enhance your content creation effortlessly.
Stay tuned for our next lesson, where we delve deeper into using AI to enhance your confidence and ability to stand out in a noisy marketplace and get the attention of your right fit people.
©2023 Katie Hornor, TheFlamingoAdvantage.com