How can I build a successful business with Christian values and beliefs? Starting and growing a business can be a daunting task for anyone. It can be even more challenging for Christian entrepreneurs who want to stay true to their faith while achieving business success. However, it's important to remember that God has given each of us unique gifts and talents that we can use to glorify Him in all areas of our lives, including in our businesses. We call this The Flamingo Advantage
What is the Flamingo Advantage?
Your Flamingo Advantage is the unique calling and gifts God has placed in your life and business. Through it you can be relevant and make an impact in the marketplace and ultimately change the world. This is how you build a successful business with Christian values.
It is your God-given gifts, talents, and quirky uniqueness. Your Flamingo Advantage is a positive asset that you can use to grow the work that you've been put here on Earth to do. Every transaction you make in your business has a real live person on the other end. That real live person needs your light in this world. Your Flamingo Advantage is learning what's unique about you. You can leverage it in the marketplace to be bold, to draw attention to what you do and to market yourself better.
How can a Christian succeed in business?
The first step in unlocking your unique God-given gift for business success is to identify it. This can be done through prayer and reflection, as well as seeking the guidance of trusted mentors or coaches. Think about what comes naturally to you and what you enjoy doing. Consider how those talents can be applied to your business. Additionally, consider what values and beliefs are most important to you and how you can align your business with those values.
Using Your Gift to Build a Successful Business with Christian Values
Once you have identified your God-given gift, it's important to use it to serve your customers and bring glory to God. This can be done by focusing on providing excellent service and products, as well as being honest and transparent in all business dealings. Additionally, you can incorporate your faith into your business practices. This includes offering prayer or spiritual support to customers or employees.
What Christian values you must have to become a successful entrepreneur?
It's also important to align your business strategy with your God-given gift. This can be done by setting clear goals and objectives that are in line with your values and beliefs. Additionally, consider how you can use your gift to differentiate your business from competitors. Provide a unique value proposition to customers. Don't be afraid to take risks and try new things, as long as they align with your business core values.
What does the Bible say about business success?
Jeremiah Chapter 29:11 is a verse that we hear often when we're talking about goals and aspirations. But, there's a huge biblical entrepreneur mindset truth in this verse.
"I know the plans I have for you plans of peace and not of evil to give you an expected end or to give you a hope and a future"
What does it mean when it says I have plans for you? It means just like we find in the Psalms that God knew you as he was forming you in your mother's womb. He already had a plan for you in the whole story of his history. That plan includes how He was going to be using you in this bigger part of his worldwide historical plan. There is a reason you are here. If you're still here that reason still exists. If we still didn't have a job to do we wouldn't still be here. There's someone out there who still needed the message that we have to give. What is your message?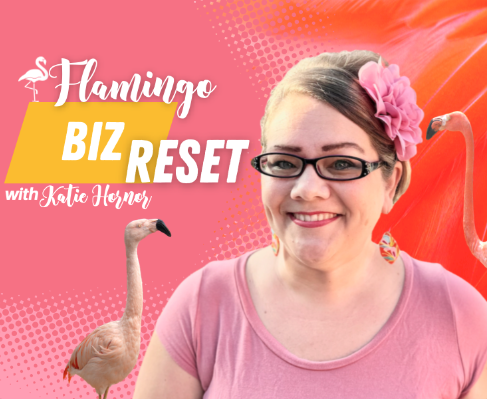 Learn to see you business as God does with the Biz Reset. Get free access here!
How do you put God first in your business?
First, you must address those lies holding you back and to conquer them with the truth of God's word. He did make you unique and He did put this business in your hands for a specific purpose. When you embrace that, you're okay with the uniqueness, and you learn to leverage your differences in a way that can help you reach more people and bring glory to the Lord.
At the same time you will be relevant to them. God's love, is relevant to everyone, regardless of what age you're born in, regardless of what business you do, regardless of your spiritual gifting. God's love is relevant to everyone and in this business that He's placed you in. Your hands, essentially are the tool He wants you to use to get that message to the world. So a big piece of this whole Flamingo Advantage is embracing your uniqueness in business and life so that you can better get the message out.
How to Partner with God in Your Business
Unlocking your unique God-given gift for business success is a process that requires prayer, reflection, and guidance from trusted mentors and coaches.

It's important to:
Identify your Flamingo Advantage
Use it to serve your customers and
Bring glory to God through your work
Align your business strategy with your core values and beliefs
Learn from successful Christian, female entrepreneurs who have gone before you
Remember, with God's guidance and support, you can build a successful business that aligns with your faith and values.