Is authenticity part of your business plan? What kind of impact can your business make? Sometimes it can be hard to see what we actually are accomplishing in the world. We miss how our business is our ministry, even if it is not a faith based service. Today we will look at authenticity, showing up, and how that can impact the world. Here's a glimpse of my conversation with Hope Ware on how being obedient can change the lives of thousands of people.
Listen to the full episode here:
What do we mean by authenticity?
I've got to take that class or whatever it is. I had to be willing to give even before I knew there was anything coming. So, I was always believing in the provision, always knowing that I could trust my God. But, I had to be willing to step out in faith, many times. I had to invest or give in certain areas that I was trusting would reap returns.
But I didn't know. When we put seed in the ground, we're not guaranteed anything, but we do it. We buy the seed, we plant it, we spend our time. We're out there weeding, watering and keeping the animals out. We're not guaranteed anything. We are hoping and trusting the creator who told us to do it.
Why is authenticity important in life?
It's the same in our business. We've got to be able to to be willing to plant the seed, to invest the time. Often, we don't know for sure what's going to come. But, we are trusting the God who says, "I'm already in tomorrow."
We leverage that faith and those promises of His to be able to walk this out in real life.
Impact from Online Business
"So true, " Hope shared, "It's so good for me to remember those early days of the first time that somebody ever contacted me and said you have impacted my life in ways you don't even realize. I remember the Holy Spirit saying, 'If that's the only person you ever impacted, if that's what this purpose was for would you still have done it?'
Yes, I would have done it. I would have been obedient, even if there was only one. But, because you're obedient when there's one or when there's 10 or when there's 200 people on your mailing list, God supernaturally gives you more. When he knows what you will do with little, He will trust you with more. We are impacting hundreds of thousands of people, no joke, every single month with our Youtube channel.
I never ever could have envisioned this, but honestly this is true, when anybody leaves a message on that Youtube channel and says, 'You impacted my life,' the Holy Spirit says if that was the only one would you still do it? And I say absolutely, I would still do it."
What is business impact value?
So true! Several months ago, I had an opportunity to speak at an online summit. The recordings had to be finished well before the event. It happened to be a very, very busy time in our life. So, I was really evaluating if this was a good investment. Did I really have time to do this?
Anyway, I went ahead and followed through. I went through with it and did the interview. There was a really sweet woman of God that was hosting, so it seemed like a good thing to do.
So, then fast forward to the next month when the summit goes live. The morning that my session went live, even before I was out of bed, I had a message. I get really choked up because this is how God works.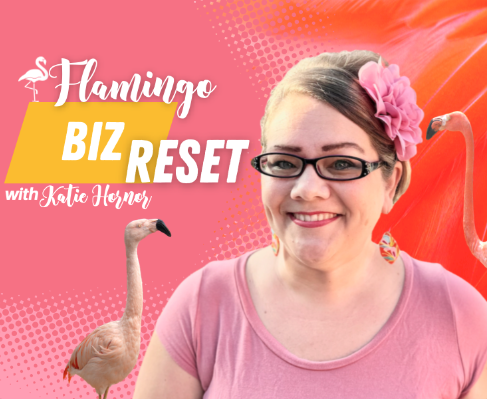 Why is business impact important?
I had a message from someone, a voice message on Instagram, that very rarely happens for me. It said, "I don't want to be on earth anymore, I really want to be in heaven, but I listened to your session today and I was reminded that God still has a purpose for me and I just wanted you to know what an impact you had and to thank you for giving your message."
It's like Hope said, if that was the only one, would it be worth it? That is what showing up in authenticity can do.
This is why we're here! I'm sorry for getting all emotional about it, but you know this is why i think God gets emotional about these things. I think His Heart and His Spirit are touched when His creation is willing to do even what seems hard to do.
How do you define business impact?
It's what we were created to do and to bring glory to Him in the realm that He's placed us. Be it ministry, be it marketplace, be it your blog or your podcast or your Youtube channel or your tik tok or your wherever you are. Who are you going to impact today by what you do and say? What opportunities are you choosing to say yes to even if there's no immediate ROI because you just never know where a willingness is going to take you.
Who does God wants to impact through that? It's all a matter of saying yes. I think God so honors us when we show up.
"There have been times," Hope shared, "in my life where I've just fallen to my knees and said I just want you to use me. That's literally what I am breathing for the next moment, God, is for you to use me. That's all I want and and immediately God would show up!"
Your Business as Ministry
"I'll give you that person," she continued, "like you had, Katie. Here you go, this is that moment in time. This is the person that it was meant for. It's all worth it, all worth it."
So much you can't measure that kind of ROI. There is there is no dollar sign available that could possibly measure the eternal impact of what we get to do for our God when we show up in the space that he created us for.
We look at it with the attitude and the perspective of this is the way I worship Him. I use that term business as worship not tritely but because there is nothing better you could do than to honor your creator by doing what He created you to do.

How can you identify an authentic person?
It doesn't mean that we have to be obnoxious with our faith or that we have to be quoting scripture right and left all the time. It just means you have to be authentically who he created you to be and love the people He brings into your business through the things that you do in order to show them Christ. That's all he's asking
If you found this encouraging, share it with someone else who needs to hear it. Remember that your message matters and you have a Flamingo Advantage in the marketplace when you embrace who God made you to be and what He's called you to. Authenticity matters!
Overcome the 3 Great Myths that Keep Christians Stuck in Business here: https://www.yourflamingoadvantage.com/threemyths